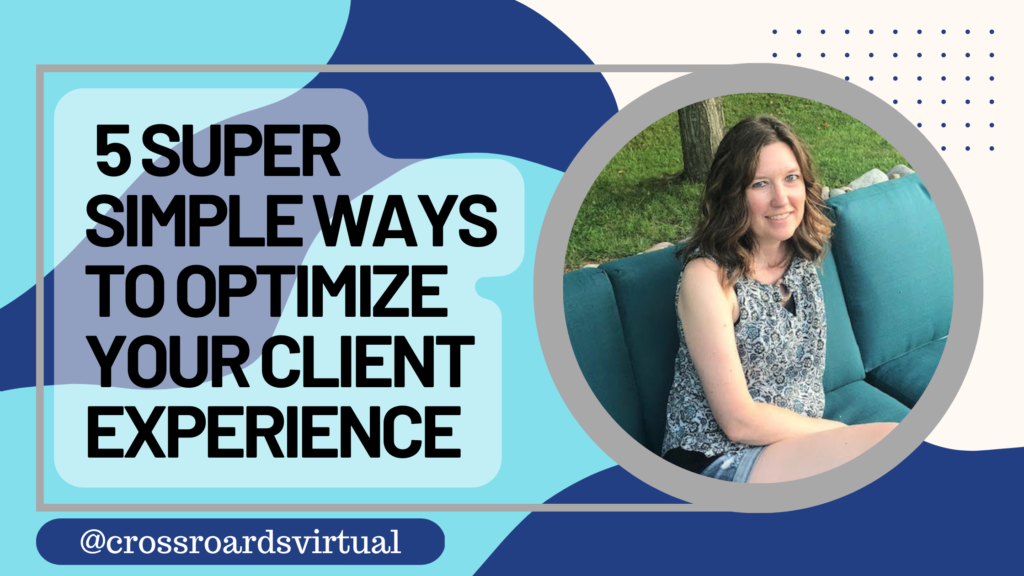 Optimize your Client Experience
You've heard it before: You need to have a firm understanding of your client's journey to be able to effectively streamline your systems and processes.
But what does that even mean!?!
And how do you apply that knowledge once you have it!?!
That's where Dubsado comes in – along with a helping hand from a knowledgeable expert (Me!)
If you're already familiar with Dubsado and want to optimize its use to improve upon your client's journey then hop down to the bottom of this blog where you'll find a quick 1, 2, 3 for optimizing your client's journey with Dubsado.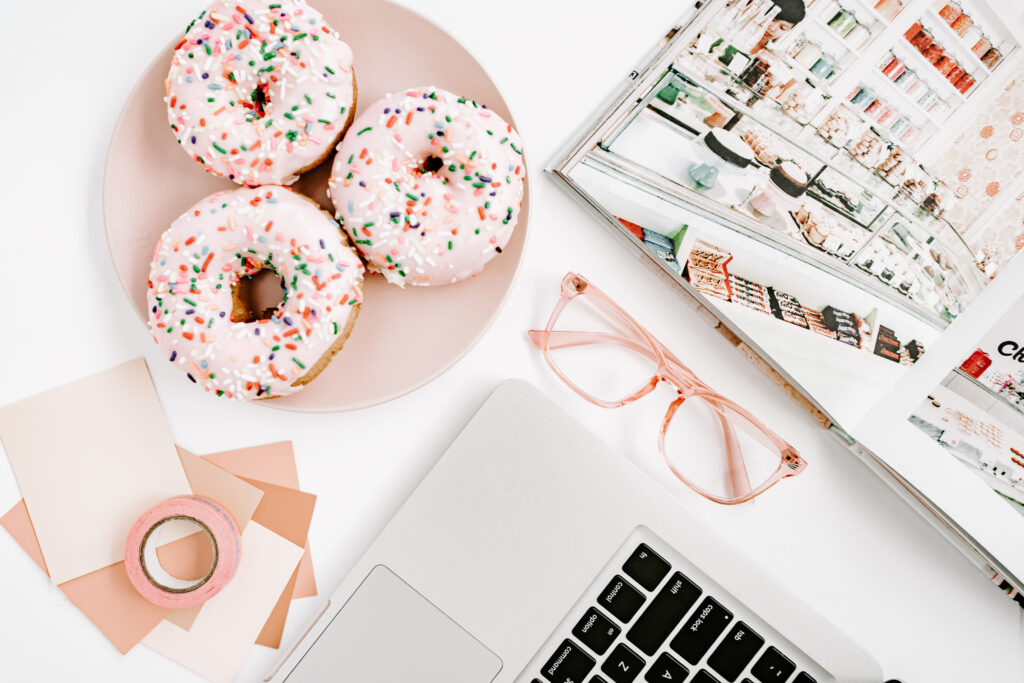 If you're just getting started with Dubsado and want to do it right from the get-go, read on to gain a better understanding of how your client's journey will streamline the way you do business.
There are 5 main aspects of your back-end systems that correspond with your client's experience with your brand. They are inquiry, booking, onboarding, project management, and offboarding. You want every part to feel like a natural progression from the step before. 
Ask yourself: If this happens, then what? What are the next steps for my client? For me?
You will need to do this for every touchpoint you have with your clients and their projects so let's break it down into smaller, more manageable parts.
Inquiry
Start at the beginning by thinking about how you want your clients to come into your world (and get added to your Dubsado system).
Do you want them to immediately schedule a call with an attached lead form?
Do you want them to fill out a pre-qualifying form so you can decide whether or not to send out your scheduler?
Do you want some services to be paid for upfront without any pre qualifications or discussions?
One thing to keep in mind: You want the client's journey to be simple for them but also beneficial to you. You want to get all the information you need from them as soon as possible. You want it to be seamless on your end as well as on their end.
After the initial outreach, you will need to share some sort of confirmation via email ("form received," "call booked," "payment processed," etc.). Keep going through this inquiry phase until you've got them having a sales conversation.
Booking
Once you have met with the client and are ready to send a proposal, then Booking begins. During the proposal phase of your client journey, you'll want to consider the following:
Do you want to send the proposal, contract, and invoice all at once?
Do you want to start with the proposal and have a discussion before sending the contract and invoice separately?
You may also want to include follow up steps if they haven't responded to the proposal in 3-5 days after receiving it.
Onboarding
Once the client submits the proposal, signs the contract and pays their invoice, onboarding can begin. There are so many options in Dubsado, that you can customize the entire onboarding process for your client in a way that fits your business needs the best. Do you have any bonus materials that need to be sent out before you start their project?
Once they've signed on with you, you will likely have another round of information gathering and delivery before getting into the nitty gritty of their needs. This may include things such as additional forms, preliminary calls to be scheduled, and a what to expect pdf.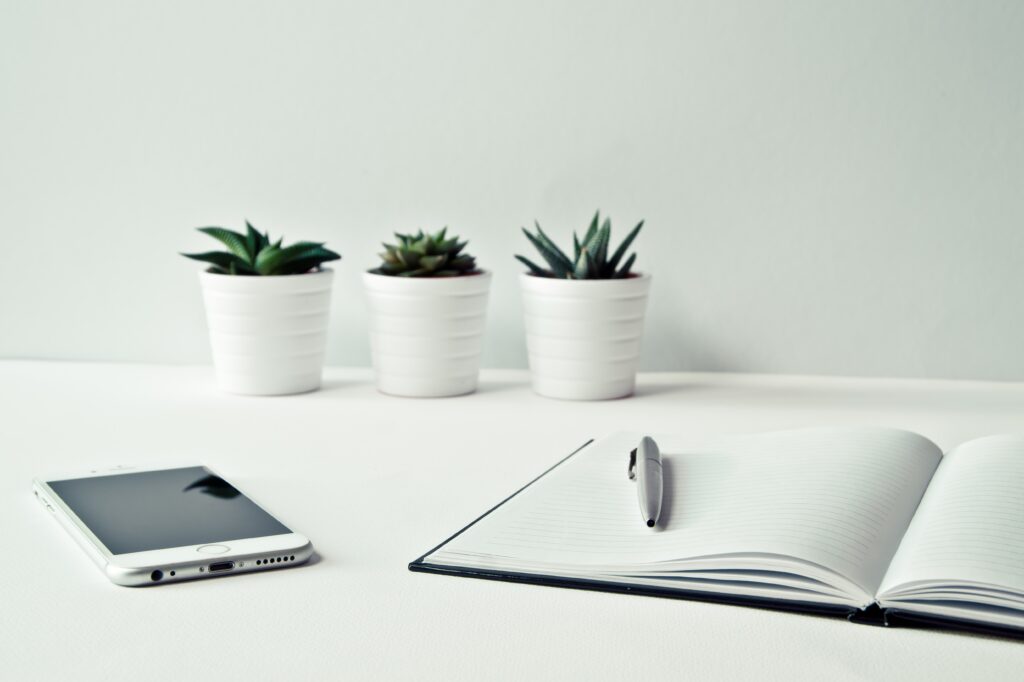 Project Management
The importance of workflows and streamlined processes doesn't just stop once you dive into working with your client. On the contrary, keeping the lines of communication open will drastically improve your client experience (and your testimonials!). It's easy to get caught up in the process of fulfilling a project for your client and you might forget to keep them posted about your progress and/or milestones met.
Your workflows will help you with that! You can set reminders to check in at different points in the project's completion and even have preplanned emails that auto sends to make sure your client's experience is exceptional.
Offboarding
This may be the most underrated part of the client's journey. Your client's experience at the end of their time with you will show them how appreciated they are to you and your business. This feel-good parting of ways can be accompanied by a testimonial request, alternative helpful offers, and follow-ups for up to a year after project completion.
If you've leveraged your knowledge of the client's journey within Dubsado then you have the opportunity to market your business better with amazing reviews, repeat business, and referrals on Dubsado workflow autopilot.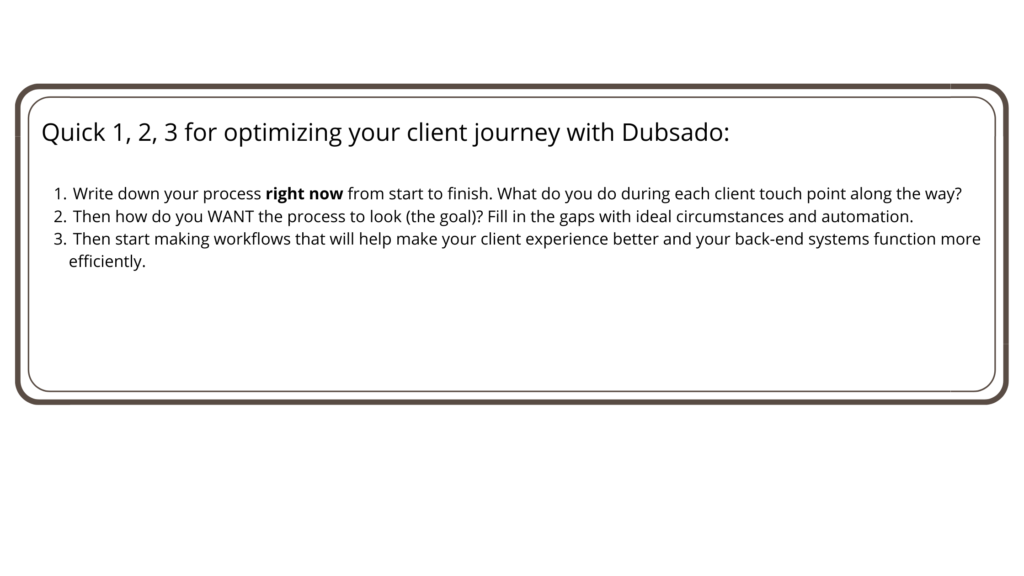 If you're ready to explore how Dubsado can improve your all-around business experience, Book a call today and experience it for yourself.